Bowmore Master's Selection 21 Year Old X Aston Martin
$359.00
Tasting notes include aromas of Manuka honey, praline, grilled hazelnuts, leather, cigar tobacco and heather blossom. On the palate, the whisky delivers flavors of 'elegant' Sherry, Islay peat, bitter dark chocolate, vanilla, coffee beans and a touch of papaya. The finish is said to be sweet, spicy and mouth-warming, with oak spice, chestnut cream and coconut.
11 in stock
Description
Bowmore Master's Selection 21 Year Old X Aston Martin
Bowmore Master's Selection 21 Year Old X Aston Martin unites TWO DISTINCT WORLDS in a powerful, yet inspiring way. The result is a Single Malt Scotch Whisky of OPTIMAL PROPORTIONS to achieve remarkable DEPTH and BALANCE
In collaboration with Aston Martin, Bowmore Distillery has crafted its first single malt whiskey, with notes of honey, hazelnuts, tobacco, thyme and more, using the automakers 'Golden Ratio' principle.
Working together to create the limited-edition whiskey was Bowmore master whiskey blender Ron Welsh and Aston Martin executive vice president and chief creative officer Marek Reichman.
Aged 21 years, this mahogany-colored whiskey is described as having a "richly elegant" taste that blends bitter dark chocolate, vanilla and coffee beans with fruity tastes of Morello cherries and papaya.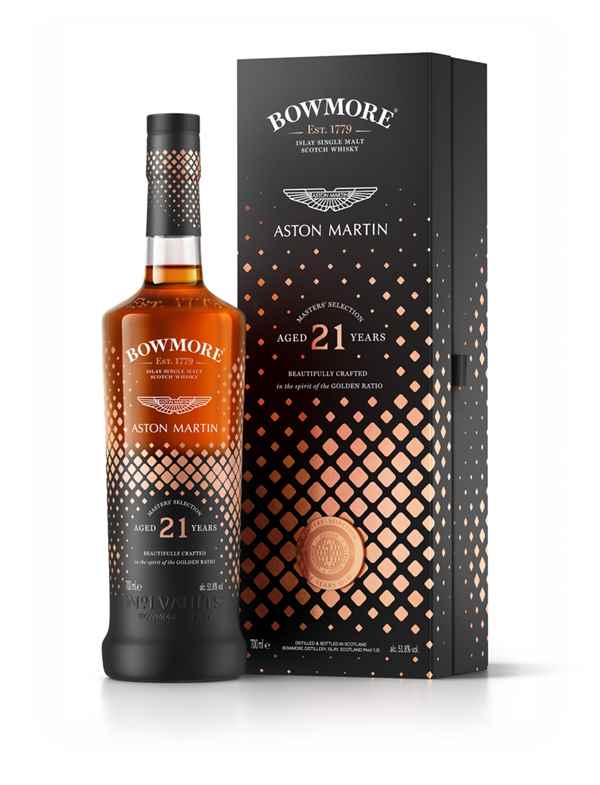 BOWMORE MASTER'S SELECTION 21 YEAR OLD finish is mentioned to be sweet and spicy with notes of oak spices, chestnut cream and coconut. "For the first time with this whisky, we have adopted the Golden Ratio to inspire each of the elements bringing their own unique flavours and selecting the optimal casks to forge the desired character, taking inspiration from Marek and his team," Welsh is quoted.
"Working with Marek has given me a new lens from which to explore whiskey making. This whisky serves as a celebration of our unified knowledge and experience; our shared passions, values and ideas."